5 easy to make delicious recipes in trending to make your day scrumptious
Love food? Then have a look at these 5 easy to make delicious recipes that go viral for their taste and temptation. Have a look, implement them in your kitchen and go viral. Its as simple as that!
1. Viral Steak frites Recipe
Yield: 4 servings Prep: 0:05 Total time: 0:40
Ingredients
• Canola oil, for frying
• Freshly ground black pepper
• Maldon sea salt
• 1/4 c. chopped fresh parsley
• 1 tbsp. unsalted butter
• Extra-virgin olive oil
• Kosher salt
• 2 lb. russet potatoes, about 3 large potatoes
• 4 (8-ounce) New York strip steaks, about 1″ thick
Directions
1. Heat a deep fryer to about 325° F after pouring oil into it. Take the potatoes and then clean and dry them but do not remove their skin. Then cut the potatoes into sticks that are ¼" wide. Now till the water turns clear, rinse them in ice cold water. Take a clean towel and dry them thoroughly.
2. Fry the potatoes in oil when it reaches to temperature for about 2 minutes for each batch till it gets barely browned and slightly translucent. Take a slotted spoon and drain the excess oil and take a towel lined plate and transfer then into the plate. Sprinkle salt over them.
3. Take a large cast-iron pan and preheat it over high heat. Take a paper towel to so as to rinse the steaks pat dry. Use pepper and salt to season them generously. Add 1 tbsp butter and 1tbsp olive oil in the cast-iron skillet when it is very hot but not smoking. Cook the steaks in pan by placing 2 steaks and cook them to the desired temperature, each side for at least 5 minutes. Take a plate and transfer the steaks to it covering them loosely with foil. For the remaining steaks, repeat the same steps and if necessary, add more butter and olive oil.
4. Sprinkle sea slat over the steaks and garnish them with fresh parsley and then serve them.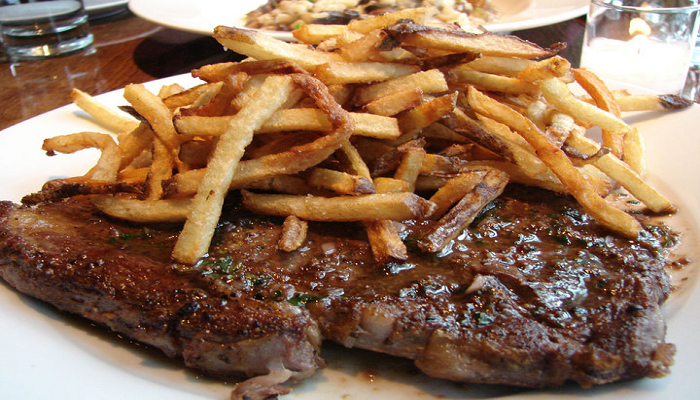 Share Your Thoughts
comments
Please Share your Feedback!
comments