Enjoy delicious chicken broccoli recipes this weekend with your family!!!
Cheesy Chicken Broccoli Bake Recipe
Yield: 4 servings Prep: 0:05 Total time: 0:30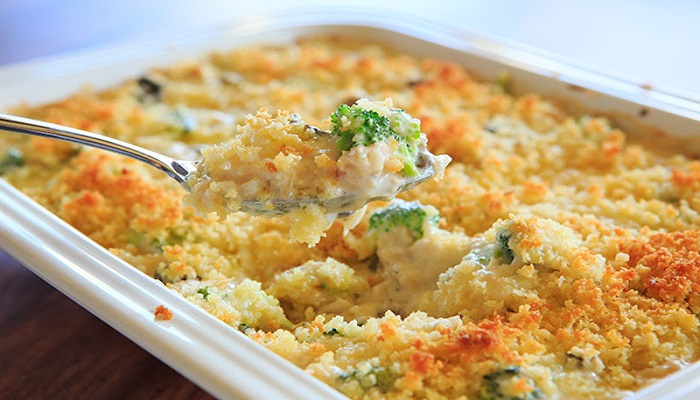 Ingredients
2 c. broccoli
Kosher salt
1 c. Cheddar, shredded
1 tbsp. Extra virgin olive oil
1 c. diced yellow onion
1 lb. boneless skinless chicken
Freshly ground black pepper
1 c. heavy cream
1 c. white rice
2 c. chicken broth
2 cloves garlic, minced
1/4 c. panko breadcrumbs
Directions
Over medium high heat, heat olive oil in a large skillet. Add garlic and onion to his and cook for about 5 minutes till fragrant. To this, add chicken and season with pepper and salt. Cook for 6 minutes more and till golden.
Add rice to the skillet. Pour in heavy cream and chicken broth and stir them to combine. Simmer it for about 15 minutes till the rice is fully cooked. Mix in cheddar and broccoli and till the cheese is melted, cook it.
With panko breadcrumbs, evenly sprinkle skillet and season with pepper and salt. Broil for about 2 minutes till crispy and golden.
Share Your Thoughts
comments
Please Share your Feedback!
comments