Delicious chicken nuggets and One Pan Vegetables and Chicken Recipe
One Pan Vegetables and Chicken recipe
Yield: 4 Servings Prep: 0:15 Total time: 0:30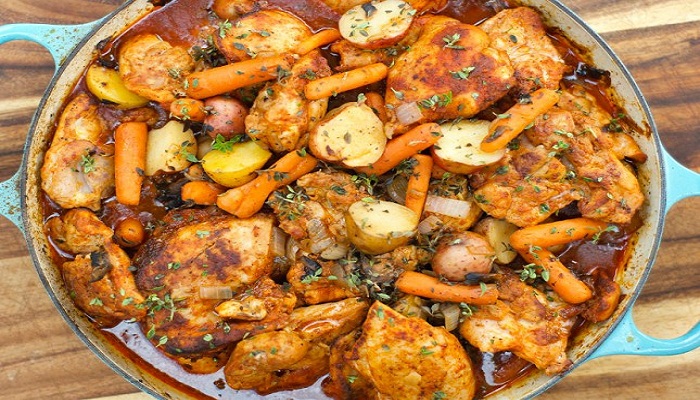 Ingredients
4 small/medium boneless, skinless chicken
1½ lb baby red potatoes
Parsley
1 (1 oz) packet Hidden Valley® Original Ranch® Salad Dressing & Seasoning Mix
Salt
2 tbsp olive oil
1 cup unseasoned bread crumbs
1 cup mayonnaise
1 lb baby carrots or slender peeled carrots
Pepper
Directions
Up to the temperature of 400˚F, preheat the oven.
Mix together 1 packet ranch seasoning and 1 cup mayo in a large Ziploc bag. To this, add 4 chicken breasts and to coat the chicken, squish the bag around. From the bag, squeeze out the excess air and then refrigerate it after sealing for the time you prepare veggies.
Take a large rimmed cookie sheet and grease it with ½ tbsp oil. On the oiled pan, place the potatoes and carrots, drizzle with 1 ½ tbsp olive oil and sprinkle with pepper and salt. On the pan, toss the veggies and to make room for the chicken, push them to the sides keeping potatoes cut side down.
Take a bowl and place the breadcrumbs in it. After shaking off the excess marinade from the chicken, dip it in the breadcrumbs and to coat evenly, turn it. Take a baking sheet and transfer the chicken to it. To get a golden crust, drizzle with oil.
For about 20-25 minutes, bake it at 400˚F, till the juices run clear. To brown the chicken, continue baking for 3 more minutes after turning on the broiler. Remove it from the oven, garnish with parsley and then serve it.
Share Your Thoughts
comments
Please Share your Feedback!
comments