Make your weekend delicious with mouthwatering chicken recipes!
Chicken Gyros
Yield: 4 servings Prep: 0:15 Total time: 1:00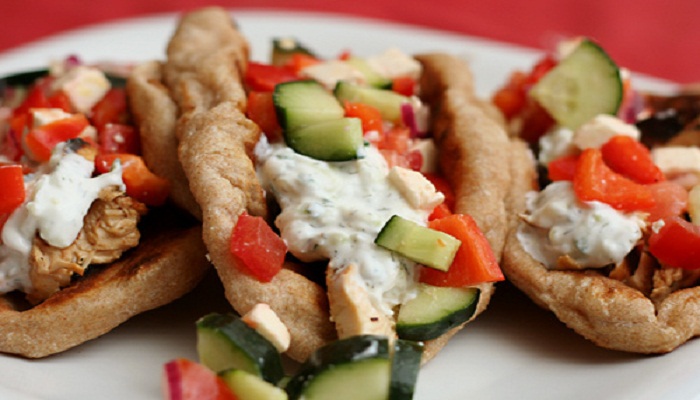 Ingredients
OREGANO-LEMON CHICKEN
1 lb. boneless chicken breasts
1 tsp. dried oregano
1/3 c. lemon juice
2 tsp. minced garlic
1/4 c. olive oil
1/4 tsp. Black pepper
TZATZIKI SAUCE
1/2 lemon's juice
1/2 tsp. fresh dill, chopped
2/3 c. plain Greek yogurt
1/3 c. English cucumber, diced
1 tsp. minced garlic
FOR THE WRAP
1 pint cherry tomatoes, quartered
1 red onion, sliced
4 pitas
Directions
Make chicken: In a large mixing bowl, combine garlic, lemon juice, black pepper, olive oil and oregano mix well. To this, add chicken and toss to coat it well. Refrigerate for about 30 minutes to marinate.
Prepare Tzaiziki: Whisk together lemon juice, yogurt, garlic and dill and combine well. In this mixture, fold in the cucumbers and then set it aside.
In a sauté pan, pour a little olive oil over medium heat and allow it to warm up. Working in batches, add chicken strips to it. Sauté for about 4-5 minutes till no pink is visible in the strip when cut from the half.
Prepare the wrap: Top each of the pita with cherry tomatoes, chicken strips, red onion and tzatziki sauce.
Share Your Thoughts
comments
Please Share your Feedback!
comments