Enjoy easy to make Chicken parm and Chimichurri chicken sandwich recipe
Chicken parm recipe
Yield: 4 servings Prep: 0:10 Total time: 0:25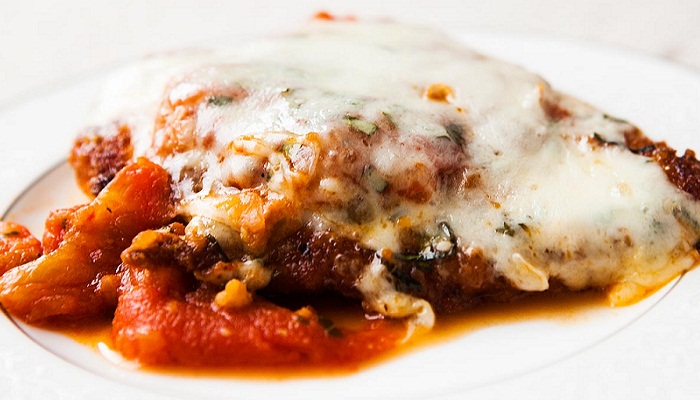 Ingredients
1 lb. fresh mozzarella, sliced
Kosher salt
2 c. panko breadcrumbs
Freshly ground black pepper
2 c. tomato sauce
1 1/2 lb. chicken cutlets, cut in half
2 large eggs
Fresh basil
2 c. all-purpose flour
Canola oil
4 hero rolls, cut in half
Directions: The directions of  Chicken parm recipe differ from Chicken kebab recipe we have covered earlier. Have a look:
Up to the temperature of 350°F, preheat the oven. Prepare station: Take 3 large mixing bowls. Mix parmesan cheese and breadcrumbs in one bowl, beat eggs with 1 tbsp water in the second bowl and in the last bowl, take flour. With pepper and salt, season the chicken. In the flour, coat each of the chicken pieces and then dip it in egg after shaking of the excess flour. Finally, coat the chicken piece in breadcrumbs. With the remaining pieces of chicken, repeat the same step and then take a plate and set the pieces on it.
Over medium heat, add oil in a large cast iron skillet. To the pan, add chicken cutlets once the pan is hot. Cook for about 1-2 minutes till golden brown on each side. Line a plate with paper towel and transfer cutlets to it.
Warm up the tomato sauce in a small sauce pan.
Line a rimmed sheet with parchment paper and on this, place the hero rolls with the cut side up. Toast for about 1-2 minutes till lightly brown. On the bottom halves of the hero roll, place the cutlets and with sliced mozzarella cheese top them. Till the cheeses begin to melt, toast them again. Between the hero rolls and chicken, add 3-4 leaves of basil and spoonfuls of warm tomato sauce. Cut the sandwich in half after closing it and then serve it immediately.
Share Your Thoughts
comments
Please Share your Feedback!
comments