Easy to make Chicken Caesar Pasta Salad and Breaded Chicken Cobb Salad Recipe
Chicken Caesar Pasta Salad Recipe
Yield: 8 servings Prep: 0:15 Total time: 0:35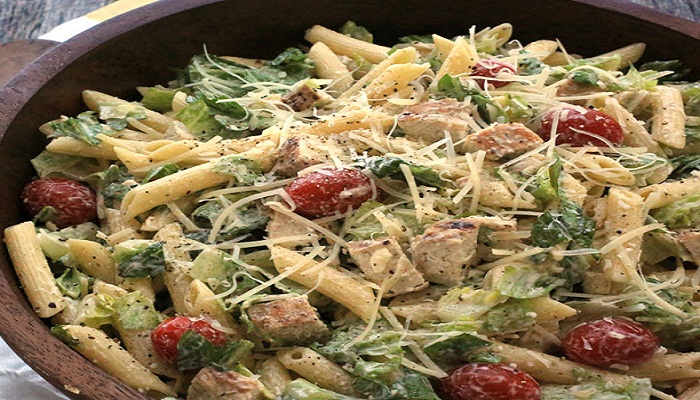 Ingredients
1/2 c. Caesar dressing
1/4 c. shaved Parmesan
1 lb. penne
1/2 c. broccoli florets
1/2 lb. boneless skinless chicken breasts
1 c. halved cherry tomatoes
Kosher salt
Freshly ground black pepper
2 tbsp. extra-virgin olive oil
1 c. crusty bread
Directions
Boil salted water in a large pot and as per the instructions given on the packet, cook penne till al dente. Return it to pot after draining. Cook chicken in the mean time: In a large skillet, heat 1 tbsp olive oil over medium-high heat. With pepper and salt, season chicken and cook for about 6 minutes till golden brown from both the sides. Take a cutting board and transfer the chicken to it and slice.
Prepare croutons: Over medium heat, heat the remaining olive oil in a large skillet. To this, add croutons and cook for about 10 minutes till golden brown and set it aside and allow it to cool.
Combine chicken, tomatoes, penne and dressing in a large serving bowl and till well combined, toss it. Season it with pepper and salt.
In parmesan, toss it and then top it with croutons.
Share Your Thoughts
comments
Please Share your Feedback!
comments