This Fried Chicken and Thai Noodles recipe got highest appreciations! See why!
8.Pour the remaining 2 cups of the buttermilk in a baking dish and whisk in ¼ tsp black pepper and ¼ tsp salt. Take another baking dish and place flour in it. Stir in ¼ tsp black pepper and ½ tsp salt.
9.Working with the chicken, take the buttermilk and dip the chicken and it, let the excess drip off. After this, coat the chicken with the flour and shake off the excess. Work with the chicken in batches and place them in the hot oil slowly and ensure that the skillet is not crowded.
10.For about 10-11 minutes, fry the chicken such that it is cooked through and golden brown from both the sides. Transfer the pieces that are golden brown from outside but not cooked through to the rack inside the jelly roll pan and bake till cooked through for about 7-8 minutes. With ½ tsp salt, sprinkle the chicken. Reduce the temperature of oven and keep the chicken warm in the pan kept inside the oven.
11.Repeat the same procedure with chicken thighs and season it with ½ tsp salt. With the mango-honey sauce, serve it.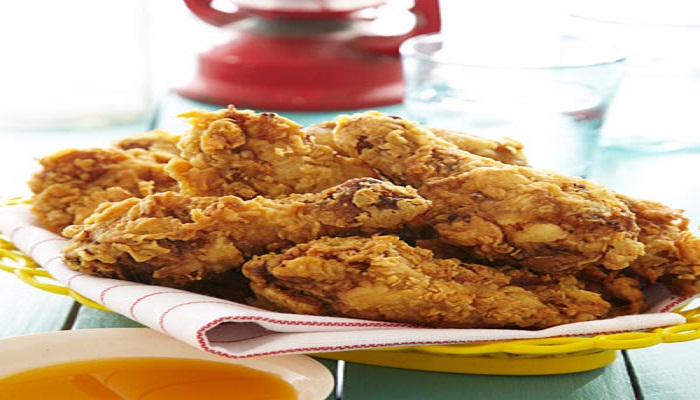 Share Your Thoughts
comments
Please Share your Feedback!
comments