Enjoy delicious and easy to make Chicken rice recipes!
Directions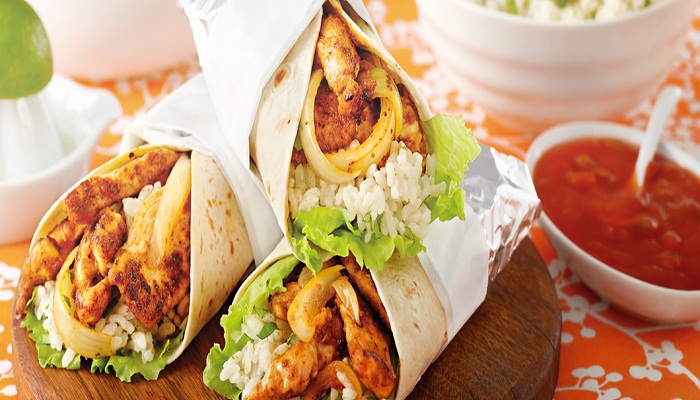 Over medium heat, heat a grill pan.
In a large skillet, heat oil over medium heat. To this, add onion and corn and cook till tender and crisp for about 4 minutes. Stir in rice, beans and salsa. To incorporate the salsa well, stir it with the help of a large spoon and till the rice is thoroughly heated, cook it.
Oss cheese, chicken and pepper in a medium bowl. As per the instructions given on the packet, warm the tortillas on the stove top.
For assembling the burritos, in each of the warm tortilla's center, spoon rice mixture measuring about 1 cup making a mound. With some cilantro leaves and ½ cup of the mixture of chicken, top it. Fold the sides of tortilla in and then in to the burrito, tightly roll them.
With the cooking spray, coat the burritos lightly. Cook for about 4 minutes till the burritos are crisp and toasted after placing it on the grill and turn it once. Cut it in half and with the accompaniments, serve it.
Share Your Thoughts
comments
Please Share your Feedback!
comments