17 beautiful dresses in your budget
This mini dress which has cross at its back will help you in showing your curves and color of the dress is so beautiful that give a pop to wardrobe.
You can get it at very affordable price from Asos at just £4.


2. Presenting a dress which is high neck jumper dress when paired with denim jacket and long boots gives a killer look.
You can pick it from Everything 5 Pounds at £5.
Everything5pounds.com:
3.A dress which can be wear during anytime in the year is simple split-thigh maxi dress which will add charm in your beauty.
Go and grab it from Asos at £4.

Asos:
4. Burgundy color adds glam in someone personality and Amazon presents a sexy AF dress which is all time favorite color.
Pay £4.99 on Amazon and add it in your wardrobe.
Amazon:
5.If you want a look of sixties then no can beat your look with this lilac mini dress and will complete your all dreams of sixties.
Just go at pretty little thing for this beautiful dress by paying only £5.

Prettylittlething.com
6.Black is a color which is easily find in everybody wardrobe and misguided presenting a good collection of racer dress in black color.
Just pay £5at misguided and wear it to get beautiful compliments.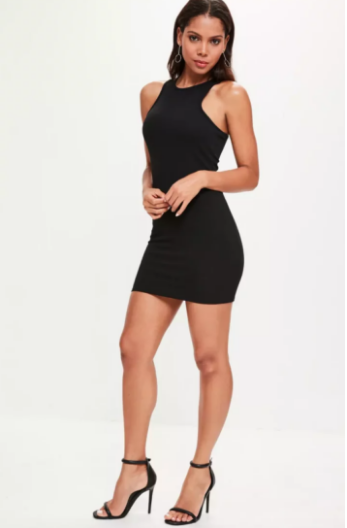 Misguided.co.uk
7.OFF-the –shoulder maxi dress that will help you to look pretty and flawless.
You can get it at Amazon by paying £4.99

8. Pretty little thing is presenting a perfect dress for night outs which is a dusky rose coloured gown.
You can get it from pretty little thing by paying £5.

Prettylittlething.com
9.Off-the shoulder bardot dress is very gorgeous that makes your summer very cool and can be easily handle in summers.
Grab it from Asos by paying £3.50.
Asos
10.Smoky look can be given to you by cut-out-tie-front dress which looks perfect if wear with tights and long boots.
Add this beautiful dress in your collection from Asos at £4.50.

Asos
11. A dress which can suit to everyone is simple striped jersey dress. It gives a modern look with simplicity.
Go and pick this beautiful dress from H&M at £ 4.99.

H&M
12.Shop for holidays from missguided which you will go very soon and this lovely neutral dress is perfect for holidays.
Pay £5 to misguided and get it.

Missguided
13. Wore this lovely skater dress with perfect ruffle look.
Asos provided this dress at £5.
Asos
14. Add some twist on your plain dress of jersey by matching it with zebra print dress.
H&M presents this beautiful dress at only £4.79.

H&M
15. A dress which always remains in fashion is Super stylish little dress.
Grab this beautigul piece from everything5pounds at just £5.

Everything5pounds.com
16. A perfect French chic which gives an adorable look is striped number.
Grab it at Asos at £5.

Asos
17.A perfect dress to be wear on weekends is khaki wrap dress ,even this dress can be wore at parties of drinks.
BooHoo is selling this dress at £5.
Share Your Thoughts
comments
Please Share your Feedback!
comments