Gorilla killed to save 4 years old who fall accidentally into Cincinnati's zoo enclosure!
The emergency team members as well as Cincinnati police rushed to the Cincinnati Zoo & Botanical Garden after receiving the report of the incidence at about 4 p.m. on Saturday. Thereafter, the police confirmed the baby being taken to the nearby medical center where he was treated for injuries. Though, the injuries were severe, still the baby is out of danger.
As per the President of Cincinnati Zoo, Thane Maynard, the 4 years old crawled and fell into the moat that was surrounding the enclosure. The height was 1o-12 feet but the baby was not injured severely by the fall. In a press release reported by the Cincinnati Fire Department, it is mentioned that the people, "witnessed a gorilla who was violently dragging and throwing the child."
Mynard further said, "The choice was made to put down, or shoot, Harambe, so he's gone,". "We've never had a situation like this at the Cincinnati Zoo where a dangerous animal needed to be dispatched in an emergency situation." The news got viral and so is the video showing gorilla grabbing the 4 years old baby. The video is still viral and trending. Have a look Viral video of gorilla grabbing a baby!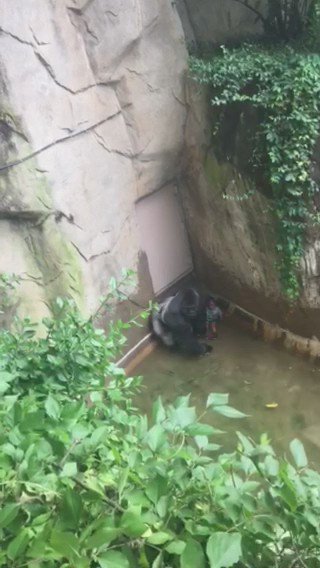 Share Your Thoughts
comments
Please Share your Feedback!
comments