Enjoy delicious chicken recipes cooked in a different style!
Directions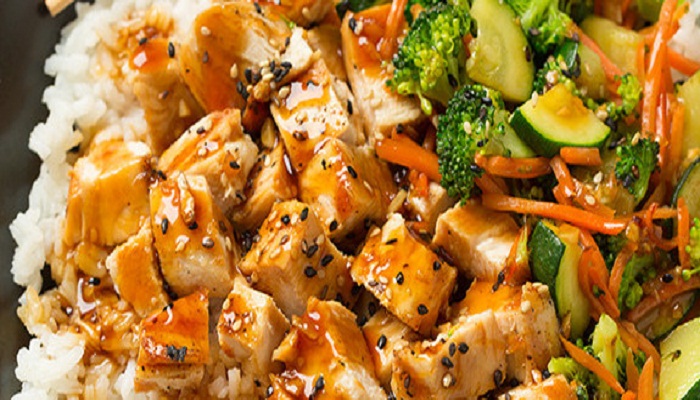 Prepare the teriyaki sauce: Whisk together 2 ¼ tbsp water, garlic, soy sauce, honey, rice vinegar and brown sugar in a saucepan. Over medium heat, boil the mixture. With remaining 2 tbsp water, whisk the cornstarch and in the saucepan, mix it with the mixture of sauce. For about 1 minute, boil it after reducing the heat with constant stirring. Set it aside after removing it from heat.
Prepare the chicken:
Take 1 ½ tbsp of olive oil and with this, brush the chicken from both the sides. With pepper, season it. Over medium-high heat, preheat the grill. With oil, lightly brush the grates and then for about 4 minutes, grill the chicken from both the sides. Allow it to rest for 5 minutes after removing it from heat and then make cubes by dicing it.
Prepare the veggies: In a sauté pan, heat the remaining 2 tbsp of olive oil over medium-high heat. To this, add broccoli, zucchini and carrots and till crisp and tender, sauté it for about 4-5 minutes.
Assemble the bowls:
Into the 4 bowls, layer the rice and with ¼ of the veggies and ¼ of the chicken. Top each of them. Over the tops, drizzle the teriyaki sauce in desired amount and with sesame seeds, sprinkle it. Serve it warm.
Share Your Thoughts
comments
Please Share your Feedback!
comments