Celine Dion speaks about her husband's death and consoles her kids in a very special way proving herself to be the perfect mom!
After the death, the kids, Rene Charles as well as twin boys, Eddie and Nelson  are now trying to live without their loving dad. However, they still wish goodnight to "papa" without fail every night before going to bed, she said.
Dion tells how she consoles her kids by saying, "The only thing I wanted is for them to say 'up,'"."Up is a good thing. Up is uplifting." She said, I took kids outside, where we released the balloons which I call "pixie dust" into the sky. I told them, "We're gonna say, 'Papa, we love you. Have a good up.' And we're gonna spread this, and it's gonna go to him."
The video covering this news story of Celine Dion went viral and was even shared on Celine Dion Facebook page. People appreciated the way she consoled the kids and there were comments trending on her page like this:
Karen Starks: Wow, I am utterly impressed by the way she told her children about their father's death… I found myself, as she was talking, feeling almost like a child myself listening to her explain it and it drew me right in…. Wow! Well done, Celine…
Another comment was: Denise Lillian: Aww so sweet
Explaining death to children is extremely sensitive subject they adjust better when he comes from the heart and the love that they feel when this is being explain to them this you cannot lie about this is truth this is love this is very sweet we love you Celine so..
This proves with a great singer Celine Dion is also a perfect mother.. Don't you feel? Netmarkers Salutes her!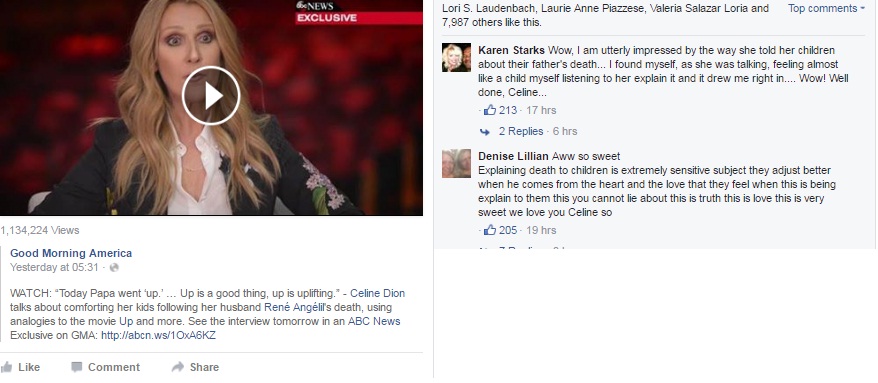 Share Your Thoughts
comments
Please Share your Feedback!
comments