Enjoy your weekend with delicious Grilled chicken and Chicken pizza recipe!!!
Grilled Chicken with Red-Pepper Paste Recipe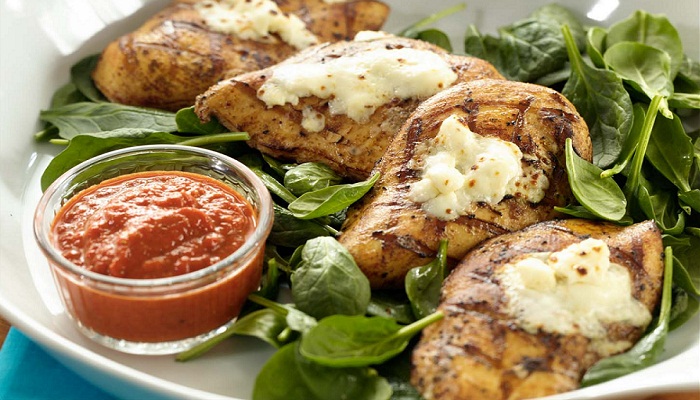 Yield: 4 servings Prep: 0:20 Total time: 2:00
Ingredients
1 Chicken
½ tsp. Freshly ground black pepper
Vegetable oil
1 tsp. ground cumin
2 red jalapeños
4 clove garlic
1 tsp. kosher salt
3 red bell peppers
2½ tbsp. white wine vinegar
¼ c. extra-virgin olive oil
Directions
On a hot grill, roast the red bell peppers till well cooked all over. Take a bowl and transfer the peppers in it to cool. After this, peel them and chop them coarsely. To a food processor, transfer the peppers and add garlic, jalapenos, cumin, vinegar, pepper, salt and smash them. Pour in olive oil slowly with the machine on.
Make deep silts all over the chicken with the help of a knife. Take a resealable, large plastic bag and transfer the chicken in it and then add marinade. After this, put the chicken in refrigerator overnight. Before grilling, bring it to room temperature.
Turn on grill and oil it. From the chicken, wipe of most of the marinade and then put it with skin side down on the grill. Cover it and cook for about 7 minutes over moderately high heat till lightly cooked. After this, cook it for another 7 minutes after turning till it is well cooked form other side as well. Turn the heat to half and grill the chicken after covering for about an hour.
Let it rest for about 10 minutes by transferring it to work surface.
Share Your Thoughts
comments
Please Share your Feedback!
comments