Enjoy Delicious Recipe Of Chicken Meatballs With French Onion
[nextpage title=" " ]
Yield: 4 servings Prep: 0:15 Total time: 1:15
Meatballs have the tendency to improve the taste of almost anything. This is what we will find in this recipe where an appetizer soup gets converted to a full meal with the addition of meatballs in it.
Ingredients: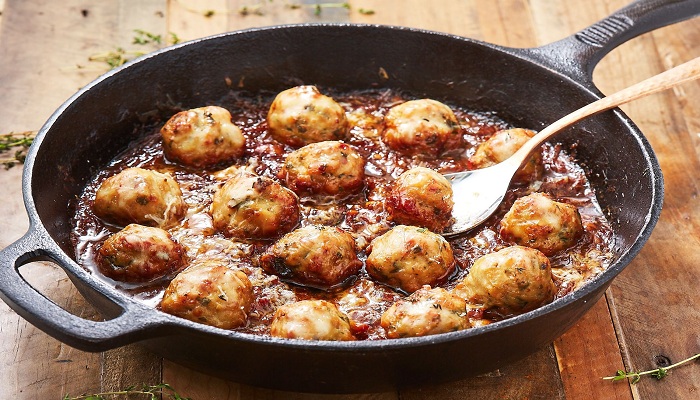 For meatballs:
• Ground chicken (1 lb)
• 2 tbsp olive oil (Extra-virgin)
• Shredded gruyere (1/2c.)
• Kosher salt- 1 tbsp
• Bread crumbs (1/4c.)
• 2 garlic cloves, minced
• 1 large egg, beaten
• Parsley (freshly chopped- 2tbsp.)
• Black pepper-1 tsp.
For sauce:
• Butter- 4 tbsp.
• 2 garlic cloves, minced
• 2 thinly sliced large onions
• 2 tsp. thyme, freshly chopped
• Black pepper
• Chicken broth- 2c.
• Kosher salt
• Shredded Gruyère- 1 ½ c.
[/nextpage]
[nextpage title=" " ]
Directions
• Set the temperature to 425° and preheat the oven.
• Take a large baking sheet and line it with foil. After this, take oil for rubbing the sheet with
• Prepare meatballs: take a large bowl and mix bread crumbs, Gruyère, egg, parsley, ground chicken and garlic in it. Use pepper and salt for seasoning the mixture. Make meatballs from this mixture,
• Take the baking sheet that is prepared in advanced and place the meatballs on it. Bake for about 25 minutes till they are thoroughly cooked and golden.
• Prepare sauce in the meanwhile: Take a large skillet and melt butter in it over medium heat. To this, add onions and cook for 25 minutes till they are golden and soft with continue stirring. To this, add garlic and cook till it become fragrant. To this, ad thyme and broth and season the mixture with pepper and salt. Bring this mixture to boil and then for 10m minutes, let it simmer by reducing the heat till it get thickened.
• To this skillet, add meatballs and use Gruyère for sprinkling it. Cover the meatballs and cook for about 5 minutes till they are thoroughly warmed.
• Use thyme for garnishing and serve warm.
[/nextpage]