Viral recipe for soup and Meat loaf in trending!!! Try it today
Trending Sriracha meatloaf Recipe
Yield: 4 servings Prep: 0:05 Total time: 0:35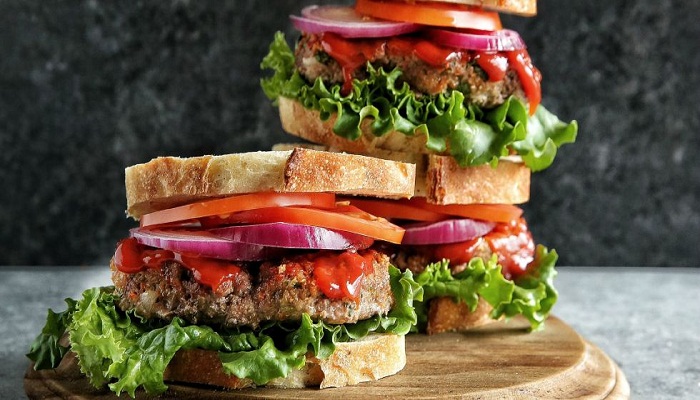 Ingredients
1 1/4 c. ketchup
8 slices crusty country bread
1/2 c. chopped carrots
Kosher salt
1/4 c. sriracha
3/4 c. chopped parsley
1 lb. ground beef
1 large beefsteak tomato, sliced
1/2 c. chopped onion
1/2 c. chopped celery
2 garlic cloves, roughly chopped
Freshly ground black pepper
3/4 c. panko (Japanese bread crumbs)
1 egg, beaten
4–6 pieces greenleaf lettuce
1 lb. ground pork
1 large red onion, sliced
Directions
Up to the temperature of 375°F, preheat the oven. Take parchment paper and line a sheet pan with it and set it aside. Mix Sriracha and ketchup together in a small bowl and then divide this mixture in 2 bowls such that one contains ¾ cup of it and another contains ¼ cup.
Add carrot, parsley, onion, celery and garlic in a bowl of food processor. Transfer it to a large mixing bowl after combing it by pulsing properly. Add 1 tbsp pepper, panko, 2 tbsp's of salt and egg and mix it well with the help of spoon. Add ½ cup Sriracha ketchup and meat and mix until they are well incorporated.
In 4 equal parts, divide the meatloaf. Place them on parchment paper by giving the shape of a 1" high rectangle. With the back of a spoon, on each piece spread 1 tbsp of ketchup and then bake it for about 20 minutes.
Layer red onion, tomato,meatloaf and lettuce between 2 pieces of bread to assemble the sandwiches. With the remaining ½ cup of Sriracha ketchup, serve them.
Share Your Thoughts
comments
Please Share your Feedback!
comments