Easy to make delicious recipes that you can try yourself at home!!!
Cilantro chili lime glazed salmon and green beans Recipe
Yield: 4 servings Prep: 0:05 Total time: 0:30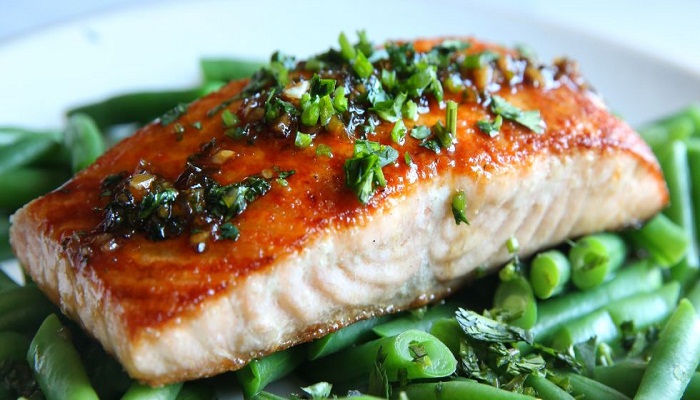 Ingredients
1 small jalapeño
4 Limes
4 salmon pieces, about 2 lb.
3 tbsp. Extra virgin olive oil
1/4 c. Chopped cilantro
Kosher salt
Freshly ground black pepper
3 tbsp. brown sugar
2 tsp. minced garlic
1 lb. green beans
Directions
Take the salmon and season it with pepper and salt and set it aside.
Add garlic, olive oil, 1 tbsp salt and jalapeno over medium heat in a small sauce pan. Till the garlic softens, sauté it for about 2 minutes. Add brown sugar, lime juice and with a rubber spatula, stir it constantly. Reduce the heat to low once the sauce begins to boil. Stir for about 6 minutes till the sauce turns in a thin glaze. Set it aside after removing it from heat.
Take a large cast iron skillet and heat it over high heat. Take 1 tbsp olive oil and heat it till it starts smoking. Sear the salmon for 4 minutes on each side. Let it rest by transferring it to plate.
Take ¼ cup of water and add I tbsp of salt in it in a large skillet and bring it to boil. To this, add green beans and cook for about 4-5 minutes by covering it. The water should get evaporated and if not, drain off the excess water. On low heat, reheat the glaze and add cilantro to it. Add a splash of water to the glaze if it becomes too thick and stir it well.
On the layer of green beans, serve the salmon and over this, spoon the glaze.
Share Your Thoughts
comments
Please Share your Feedback!
comments