Enjoy delicious rice and chicken recipes!
Directions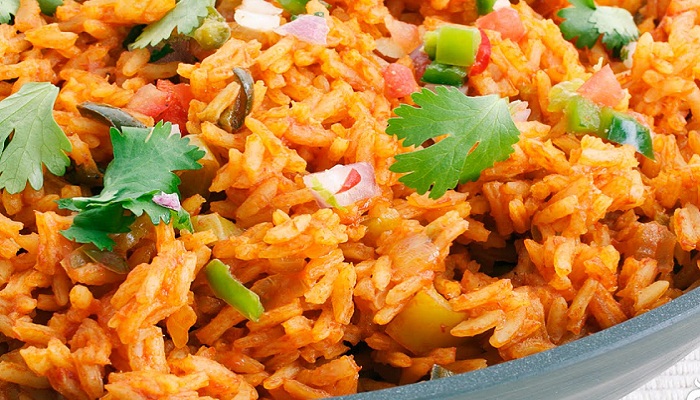 Up to the temperature of 350°F, preheat the oven. Heat oil in Dutch oven till hot over medium- high heat. With black pepper and salt, sprinkle the chicken all over and for about 6 minutes, cook it in 2 batches till from both the sides, it is brown. Take a small roasting pan and transfer the chicken to it with the help of tongs.
With the help of foil, cover the roasting pan and for about 25-30 minutes, bake the chicken.
In the mean time, cook garlic, green peppers and onion in the same Dutch oven for about 10 minutes with occasional stirring. Cook for 30 seconds more after stirring in paprika. Add broth, tomatoes and their juices, rice and water and heat on high till boiling. Cover it after reducing the heat to low and for 10 minutes, simmer it. Stir in the olives and frozen peas.
Take two ceramic baking dishes and grease them. In each of the baking dish, spoon half of the mixture of rice. In the hot mixture of rice, tuck the thighs carefully. Cover one of the dishes and for 25 minutes, bake it till the liquid is absorbed mostly and rice is tender. To serve, fluff the rice. In the mean time, for the purpose of freezing, prepare the second baking dish.
After this, cover it loosely and for about 1 ½ hours, heat it.
Share Your Thoughts
comments
Please Share your Feedback!
comments