Weekend special easy to make chicken bake and garlic chicken recipes!
Directions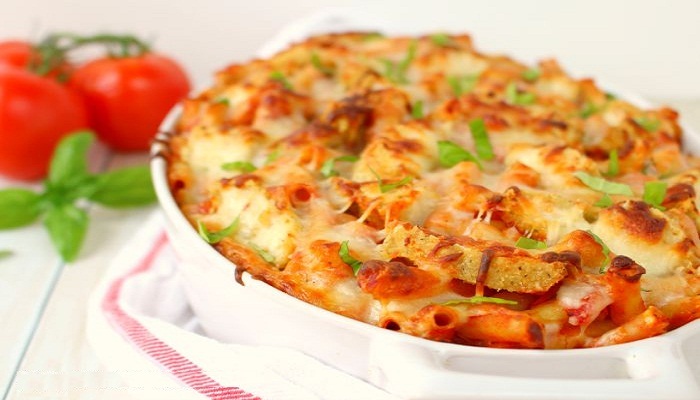 Prepare the chicken parmesan nuggets: Take a plastic resealable bag and place the eggs and chicken in it. To coat well, toss it. To the bag, add the Italian breadcrumbs and shake it after sealing till the pieces are coated completely.
Take a large sauté pan and pour vegetable oil in it that is just enough to coat its bottom. Over medium heat, place it. Add the chicken nuggets to it carefully once it is warm and till crispy, cook them.
Take a plate, live it with paper towels and place the cooked nuggets over it.
Up to the temperature of 350°F, preheat the oven.
Prepare the rigatoni: As per the instructions given on the packet, cook the pasta. Set it aside after draining.
Assemble the bake: Take a casserole pan and onto the bottom, pour marinara sauce. Toss the rigatoni with mozzarella, chicken parm nuggets, remaining marinara and parmesan in a large mixing bowl. In the casserole dish, scoop the mixture. With a little mozzarella, top it and bake for about 15-20 minutes till the cheese melts. With the fresh parsley, top it.
Share Your Thoughts
comments
Please Share your Feedback!
comments