How Walmart's Buy of Flipkart in $16 Billion Will Change the Startup Map of India!
Let's consider Parthasarathy's case. The Silicon Valley entrepreneur and a former venture capitalist with Prime Ventures returned to India to work with the Aadhaar programme. He saw immense scope in financial technology, or fintech, and has made it his next calling. The Walmart-Flipkart deal, entrepreneurs like him say, show some segments may have matured, leaving little room for innovation. On the other hand, Parthasarathy says, app-based consumer lending is a vastly underserved market, with financial services and fintech companies struggling to comprehend the needs of consumers here. He claims that barely 2% of the country has access to consumer lending. MoneyTap wants to tap this space by using technology allows users to get loans through their smartphones within minutes. While it has tied up with two banks and disbursed loans of around `500 crore in 2018, Parthasarathy says this will top `2,000 crore by July next year. Unlike traditional finance companies, which struggle with poor returns on loans, he hopes the extensive use of technology (by using credit scores and other metrics) will keep MoneyTap's default rates low.
However, according to an expert, it is being said that a loser in Flipkart-Walmart is the make in India drive. "The ideal situation would have been domestic startups taking advantage of local market opportunities. But with the Indian government asleep at the wheel, foreign companies will now dominate," says Vivek Wadhwa, a distinguished fellow at Harvard Law School's Labor and Worklife Program. "The Walmart deal will intensify competition. The elephants will battle each and this will, in the short term, benefit Indian consumers. However, Indian startups will be trampled in the melee."
SoftBank Group, including the Soft-Bank Vision Fund, has invested over $8 billion in India since 2013, making it by far the largest investor in the country. This has dwarfed the investments of Tiger Global ($3.63 billion) and Naspers ($2.9 billion), according to Tracxn, a provider of investment data. Investments of traditional marquee venture capital funds are even smaller.
The big bucks from Walmart (and Amazon and Softbank) will cause more harm than good, say market watchers. With India being the next big opportunity for many companies — within and outside the technology industry — these behemoths will look to swamp the market with their money and corner lucrative pieces of various segments. New innovation already seems unlikely in cab sharing. Travel is being dominated by Makemytrip and Oyo, with Softbank's growing influence as an investor in the latter already causing disquiet among entrepreneurs.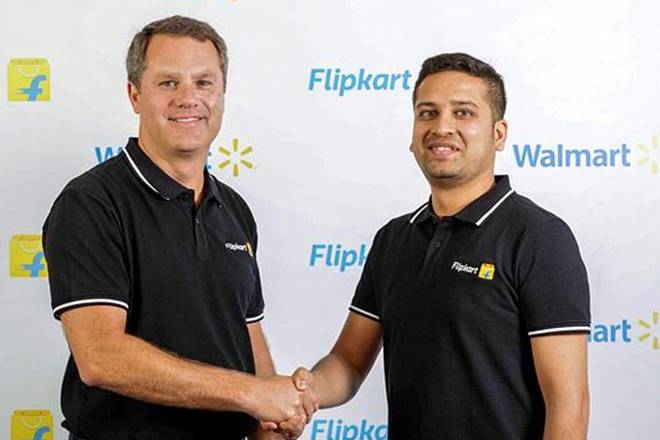 Growth Story, the startup factory of serial entrepreneur and investor K Ganesh, has already started focusing on the next generation of opportunities. Ganesh, who has backed startups such as online grocer BigBasket and healthtech firm Portea, says two key black swan events have play a major role in the evolution of India's startups. First, the demonetisation of November 8, 2016, drove the growth of fintech ventures and, second, the launch and explosive growth of Reliance's Jio mobile service gave these startups a booster shot.
At Verloop, a provider of marketing automation tools, the focus has been on using automation and machine learning to improve and hasten the speed of customer interactions online for brands such as Nykaa and for celebrities. Gaurav Singh, CEO of Verloop, points out that brands such as Nykaa are swamped by some 50,000 chat conversations daily and social media channels of celebrities also struggle to deal with the volume of conversations coming their way. Verloop manages conversations in seven languages and helps these companies and individuals monetise online assets better.
Share Your Thoughts
comments
Please Share your Feedback!
comments