Viral, trending recipes every food lover will love!!!
Buffalo chicken drumsticks with celery salad
Yield: 4 servings Prep: 0:05 Total time: 0:35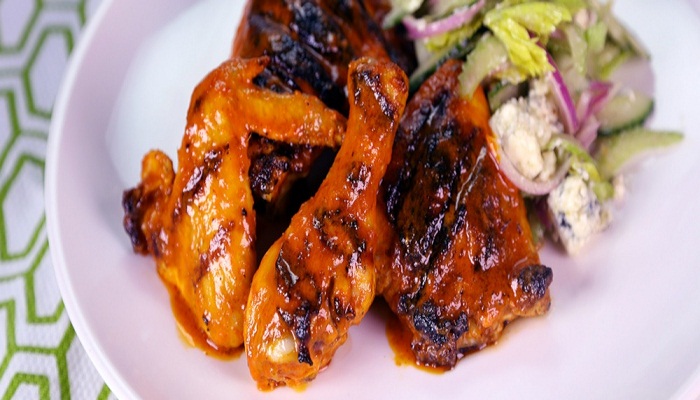 Ingredients
10–12 chicken drumsticks
1/4 c. unsalted butter
1 tsp. Dijon mustard
Extra-virgin olive oil
Freshly ground black pepper
1/4 c. crumbled blue cheese, plus more for garnish
2 tbsp. apple cider vinegar
3 c. chopped celery
1 c. sliced red onion
1/3 c. hot sauce
Kosher salt
1/4 c. chopped fresh parsley, plus more for garnish
Directions
Up to the temperature of 450°F, preheat the oven. Take parchment paper and line a rimmed sheet with it. Take the chicken, rinse it thoroughly and pat it dry. Season with pepper and salt and drizzle with olive oil. Bake for about 25 minutes by arranging the chicken in a single layer.
Add 2 tbsp's olive oil, apple cider vinegar, ¼ tbsp black pepper, ½ tbsp salt and Dijon in a medium mixing bowl. Whip the mixture together and with red onion, celery and parsley, toss the dressing. Until it gets ready to serve, keep it in refrigerator.
For about 25 minutes, roast the chicken and then cook it for other 5 minutes by heating the broiler and to avoid burning, watch it carefully. Add hot sauce, butter, ½ tbsp salt, blue cheese over medium heat in a large pot until the cheese and butter get melted, whisk the mixture. With the remaining buffalo sauce, toss the chicken in the pot.
Transfer the celery salad after tossing it to a platter. On the top of salad, place the buffalo chicken. Top the dish with parsley, reserved buffalo sauce and blue cheese.
Share Your Thoughts
comments
Please Share your Feedback!
comments