Enjoy Chicken Parm in two delicious ways using these trending recipes!!!
Crispy Chicken Parm Recipe
Yield: 4 servings Prep: 0:25 Total time: 0.30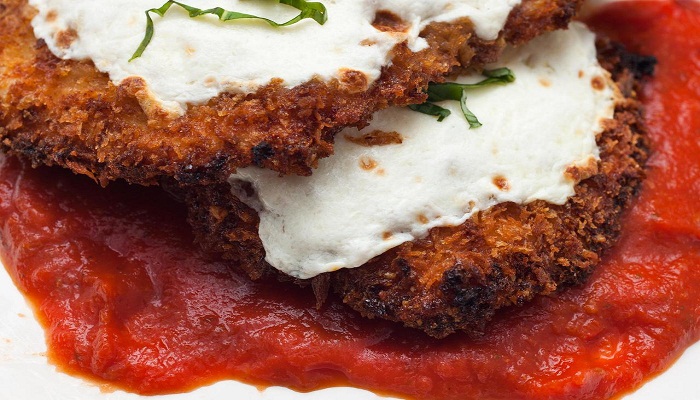 Ingredients
1 lb. tomatoes
½ c. grated Parmesan cheese
8 oz. shredded fresh mozzarella
2 tbsp. Extra virgin olive oil
¼ c. chopped fresh basil leaves
1¼ lb. thin chicken cutlets
¼ c. plain non-fat Greek yogurt
2 c. arugula
¼ tsp. dried oregano
¼ c. finely chopped red onion
1 clove garlic
½ c. whole-wheat bread crumbs
½ tsp. crushed red pepper
Directions
Up to the temperature of 475F, preheat the oven. Make use of cooking spray to spray the jelly-roll pan. Mix the crumbs and Parmesan in a large dish.
Toss the chicken with oregano, yogurt and ¼ tbsp salt in a medium bowl. In the mixture of crumb, dredge 1 cutlet and press it to adhere and then place it over the prepared pan. Repeat the same step with the remaining cutlets. On the top of the cutlets, sprinkle the remaining crumbs and spray them with the cooking spray. Bake until they are cooked through for about 10 to 15 minutes.
Mix onion, tomatoes, oil, basil, red pepper, garlic 1/8 tbsp black pepper and ¼ tbsp salt in a medium bowl. Refrigerate the tomato mixture for up to 2 hours.
Over the top of the hot chicken, sprinkle the mozzarella. Take 4 serving plates and divide the arugula among them. Take the cutlets and top it with them. On the top of this, spoon the tomato mixture.
Share Your Thoughts
comments
Please Share your Feedback!
comments