Check For 2 Way Mirrors and Cameras in Changing Room!
How to check for two way mirrors?
First thing you should do is see if the mirror on the wall is fixed or hanging or embedded into the wall. Do this whenever you walk into a changing room at a mall or departmental store.
Knock on the mirrors to check the sound and to find out if it is embedded on the wall or just hanging. If the knock sounds dull than there is probably nothing behind the mirror but solid wall and you should be able to feel it. If it sounds hollow than there is probably a room on the other side where someone can see you.
You can also do the fingernail test to check the mirror. Simply place your fingernail on the mirror if there is a gap between the image of the fingernail and your nail than it's probably an authentic mirror. But if the two touch without any gap than it's a cause of concern for you. But it can be a miss in some cases so you should still be careful.
Switch off the light in the room and shine a flashlight on the mirror if there is a room behind it will be illuminated by the light.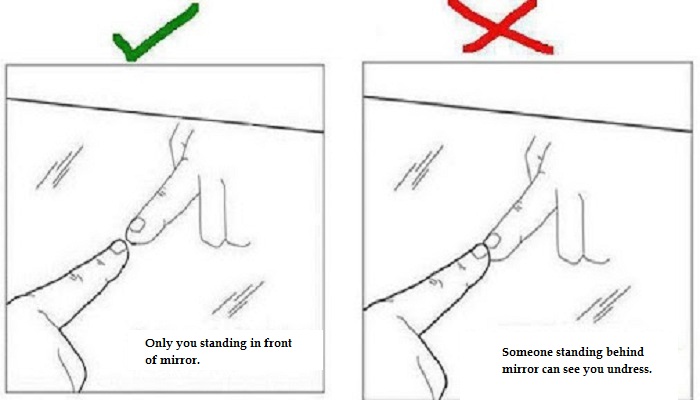 Share Your Thoughts
comments
Please Share your Feedback!
comments