Amazing non-veg recipes in trending for a delicious dinner.
Creamy lemon chicken with wild rice
Yield: 4 servings Prep: 0:05 Total time: 0:35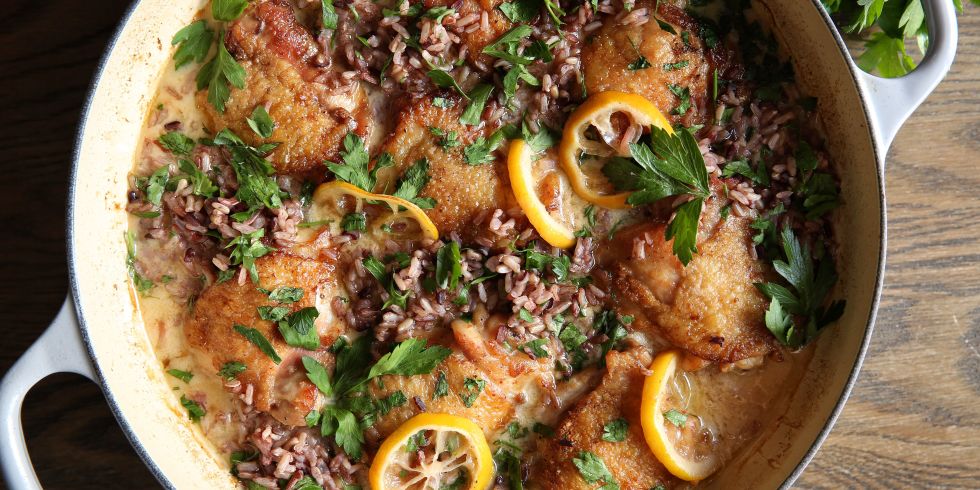 Ingredients
6–8 chicken thighs
Kosher salt
1 c. wild rice
2 lemons
Freshly ground black pepper
1 c. low-sodium chicken stock
1/4 c. heavy cream
Extra-virgin olive oil
3 garlic cloves, minced
1/2 c. dry white wine (such as Sauvignon Blanc)
1 tbsp. unsalted butter
1 onion, chopped
1/4 c. chopped parsley
Directions
Up to the temperature of 475°F, preheat the oven. Take a large cast iron skillet and heat it over high heat. Take the chicken, rinse it thoroughly and pat it dry. Season it with pepper and salt. Add 1 tbsp butter and 1 tbsp olive oil and cook the chicken into batches with its skin down for about 5 minutes till it gets golden brown and crisp. Set it aside by transferring it to a dish with its skin up.
Add onion, garlic, ½ tbsp pepper and 1 tbsp salt by reducing the skillet heat to medium high and cook it about a minute. Deglaze the pan with chicken stock and white wine, bring to boil and scarp the bottom of the pan. Add juice and zest of one lemon and then add to sauce by cutting the remaining lemons in the shape of wheels. Bring it to boil by stirring in cream and then place the chicken with its side up in a skillet in a single layer. Bake this for about 20 minutes.
As per the instructions given on the package, cook the wild rice.
To absorb the sauce in the skillet, add the cooked rice in it. Take parsley and garnish dish with it and them immediately serve it in the skillet.
Share Your Thoughts
comments
Please Share your Feedback!
comments