Delicious Thai Chicken and crispy fried chicken recipes!
Directions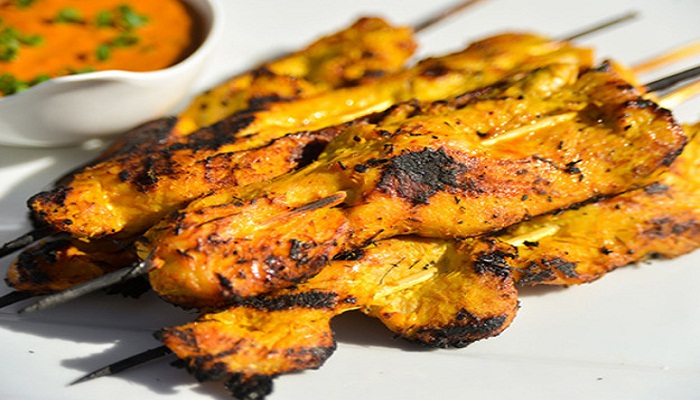 In water, soak the skewers for 30 minutes.
In the mean time, toss salt and cucumber in a medium bowl and at room temperature, leave it for 30 minutes.
Stir together ¼ cup coconut milk and curry paste in another bowl till combined well. To this, add the chicken and turn to coat it well. With occasional stirring, allow it to stand for 15 minutes.
For covered grilling, preheat the gas grill over medium heat directly.
In the mean time, make the peanut sauce: Mix soy sauce, ground red pepper, peanut butter, remaining 1/3 cup coconut milk, 1 tbsp hot water and brown sugar till smooth and blended with the help of wire whisk in a small bowl. To the serving bowl, transfer the sauce.
Drain the cucumber and in the bowl, discard the liquid. With the help of paper towels, pat the cucumber dry. To the bowl, return the cucumber and stir in shallots, vinegar, jalapeno and granulated sugar and till ready to serve, refrigerate it.
On each of the skewer, thread 2 strips of chicken and discard the marinade. On the hot grill rack, place the skewers. Cover it and for about 5-8 minutes, cook it tuning the skewers once.
On the platter, arrange the skewers. With pickled cucumbers and peanut sauce, serve it.
Share Your Thoughts
comments
Please Share your Feedback!
comments