Viral Amazing and mouthwatering delicacies in trending that are easy to make!
Here are yet another viral amazing and mouthwatering delicacies in trending that are really easy to make and mind blowing to eat. Try them today and surprise everyone!
Slow-cooker pot roast with peas and asparagus
Yield: 4 servings Prep: 0:05 Total time: 9:25
Ingredients
• Extra-virgin olive oil
• 1 lb. asparagus, bottom ends trimmed
• 2 large onions, peeled and cut into quarters
• 12 oz. frozen peas
• 1 c. low-sodium chicken broth
• 2–3 lb. beef chuck boneless pot roast
• Kosher salt
• Freshly ground black pepper
• 4 garlic cloves, crushed and peeled
• 28 oz. crushed tomatoes
• 2 bay leaves
• 2 c. dry red wine
• 1 tbsp. tomato paste
Directions
1. Heat about 2 tbsp's of olive oil in a large skillet over high heat. Take paper towels to dry the meat and season it with pepper and salt. Sear the meat on all sides of the pan when it is not smoking but hot and cook it for about 3-5 minutes from each side.
2. Add 1 tbsp black pepper, wine, 1 tbsp salt, bay, leaves, tomato paste, crushed tomatoes and garlic in a bowl of slow cooker. Add pot roast and onion after mixing it and then cook for 9 hours on low heat.
3. Fill water halfway in a large skillet and bring it to boil. Cook asparagus for cook for 3-5 minutes after seasoning it with salt. Transfer to a platter by removing it with slotted spoon. Cook for 2 minutes after adding frozen peas. Take the same platter and remove it with slotted spoon.
4. Transfer onion and meat to a cutting board by removing them from the braising liquid. Make ½" thick pieces of meat. Take braising liquid and skim top layer of the fat with it and then discard it. Top the meat with braising liquid as a sauce and serve it with vegetables.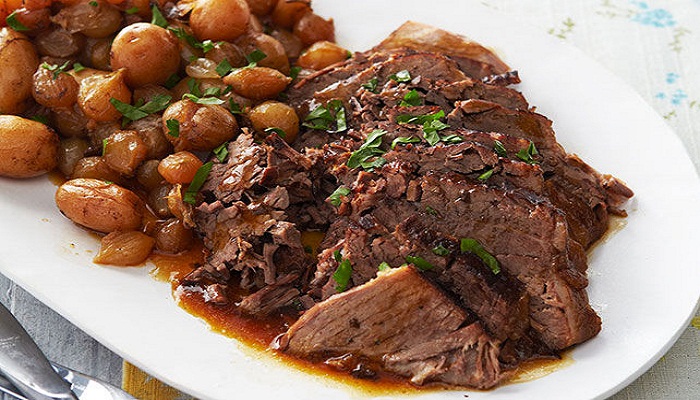 Share Your Thoughts
comments
Please Share your Feedback!
comments